Future picks loom as the key to unlocking the Adam Cerra trade for both Carlton and Fremantle, according to SEN's Sam Edmund.
Despite being the biggest name on the trade block this year, Cerra's deal looks like it could be one completed in the first week of the trade period.
According to Edmund, Carlton's current offer is pick No.6 and a swap of future third and fourth-round selections.
However, Fremantle wants No.6 and a future second-rounder from the Blues in exchange for Cerra and a future third-rounder.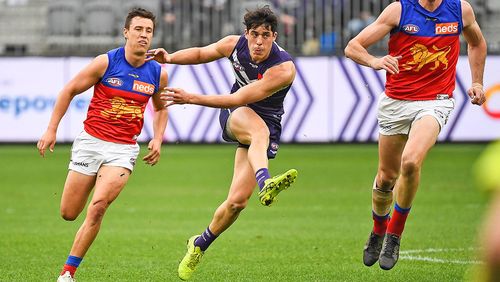 Edmund's report comes after The Age's Sam McClure explained how acquiring a Carlton second-rounder could help Fremantle in its pursuit of Cats defender Jordan Clark.
"Adam Cerra is getting closer to becoming a Carlton player," he told 3AW's Sportsday.
"He's 22 on Thursday and he could get an early birthday present, they're getting very close. It'll be pick six, while Fremantle wants to swap pick 27 for (Carlton's) 25 and while it doesn't seem like much, it helps them get closer to Jordan Clark.
"They would also like to swap some future picks, so we're getting very close there.