Drama at the Gabba with David Warner bowled by Ben Stokes for 17, only for the left-hander to be recalled when replays showed it was a no-ball.
England thought they'd grabbed their second wicket of the morning, having previously dismissed Marcus Harris, only for Warner to be given a reprieve.
Replays showed it wasn't even close, with Stokes over by a considerable margin.
"How deflating for the English," Adam Gilchrist said.
"He knew, he's back at the top of his mark before he's even been made aware of this, Ben Stokes.
"Can you believe it? Just how big a moment in the game will that be?"
"Disappointment and frustration for England."
Allan Border added: "That's huge. Warner is the man, and all of a sudden he's overstepped and Warner survives."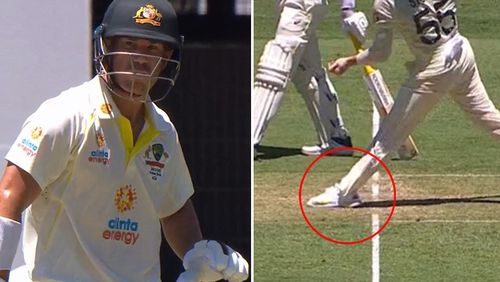 "It used to make my blood boil, as a captain. How hard is it to stay behind the line?"
Both Warner and Stokes have previously been involved in similar incidents in Ashes matches. In 2013-14, Stokes thought he had his first Test wicket after finding the edge of Brad Haddin's bat, only for replays to confirm it was a no-ball.
Four years later at the MCG, Warner spooned a catch to mid-on off the bowling of Tom Curran when he was on 99, again, he was recalled after confirmation the bowler had over-stepped.