The crowd is STUNNED here inside Suncorp Stadium as Josh Addo-Carr crosses over for his second try of the night!
Canterbury's defence once again held up well amid some Broncos pressure, with Billy Walters inches from scoring Brisbane's first try of the night just minutes earlier before he was held up.
The Dogs got it back and Matt Burton found Addo-Carr with a brilliant cut-out pass in the left-hand corner. Flanagan is unable to complete the conversion, but the Bulldogs are out to a 10-0 lead.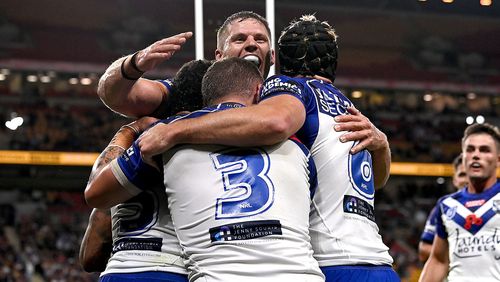 "He's giving (Selwyn) Cobbo a lesson," says Paul 'Fatty' Vautin on commentary for Nine.
Fatty also had some kind words for the Bulldogs' defence in the first half hour of this one.
"This Bulldogs defence has been nothing short of spectacular tonight," he said.
"They're really working hard for each other, talking, pointing at each other. Hence the Broncos cannot get over the line."