Newcastle chief Philip Gardner has declared the club is backing under-fire coach Adam O'Brien to stick it out and be part of the club's long term future.
The Knights will kick-off Magic Round against the Bulldogs from 6.00pm (AEST) – this blog has you covered for all the action!
Despite starting the 2022 season with consecutive wins, Newcastle has dropped its past seven games, and only last week did the club snap a two-game skid of no tries scored.
Part of those struggles is due to a mounting injury crisis, with a host of top-17 players including the likes of Jayden Brailey, Dane Gagai and Kurt Mann all out, while former Kangaroos and NSW star Tyson Frizell is sidelined through illness.
Kalyn Ponga and Lachlan Fitzgibbon have also been in and out of the side due to injuries.
Despite what's gone wrong this season, Gardner confirmed O'Brien is still the man to take the club forward.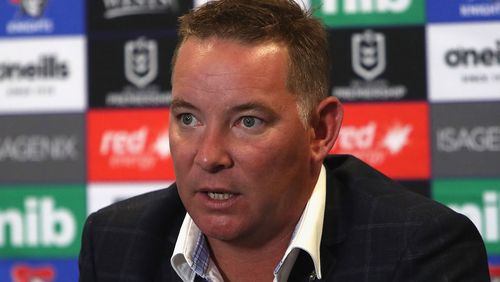 "There's no doubt in our mind that Adam O'Brien is the right coach for us," he told the Sydney Morning Herald.
"I see his work ethic, how hard he works and his relationship with the players is very good. There are no issues with that for us. I think Adam will be our head coach for a long time."
"We hope that Adam is with us for the next 10 years," Gardner added. "I think we have the right group of people. Our club is a team and the good clubs have great teamwork."
O'Brien is currently under contract until the end of 2024.
Gardner's comments come after some sections in the media were critical of the Newcastle coach.
Former Cronulla Sharks skipper Paul Gallen said earlier this month the pressure put on O'Brien was warranted.
"Fans, sponsors and people going to the game don't care… they turn up, pay their money to see their team perform and do the best they can," Gallen said on Nine's 100% Footy.
"I think there will be pressure on the coach. Whether it's fair or not, I know It's not fair… the fact is, sponsors, people turn up and pay their money. They don't care, they want to see the team perform."