Hawthorn president Jeff Kennett dropped a bit of a trade bombshell late last night when there was a curious message sent out to the club's members.
Kennett seemed to indicate that Hawthorn would undergo a significant facelift in the second week of the trade period and naturally, given the rumours surrounding Brownlow Medallist Tom Mitchell, links were made.
Port Adelaide great Kane Cornes says Kennett's message is not going to help what already seems like a fractured club in Hawthorn after Alastair Clarkson's messy exit.
"It could be anyone… there'd be something in the back of their minds going 'is Jeff talking about me?'," he told AFL Trade Radio.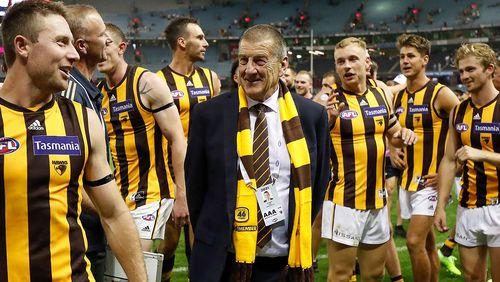 "That creates a culture where everyone looks after themselves. Hawthorn are an absolute mess.'
Kennett, for his part, appeared on SEN Radio to try and explain exactly what he meant by what he said in his letter to members.
"I'm forewarning them of the possibility that there may be decisions made that I have no say in whatsoever that might shock us," he said.
"I don't know that that will happen. I'm just saying if it does, understand it's made by those people we've employed with more football knowledge and skills that we have and they're doing it in our interests.
"It's just precaution, it's just being responsible, it's really writing about the obvious."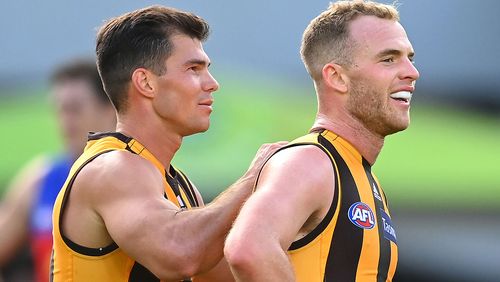 However, 73-year-old stopped short of admitting that big-name players had been offered to rival clubs.
"No. As I understand it, and I'm not fully across it, but I do speak to my people which would surprise you," he said when asked if players had been shopped around.
"We've offered no one up that I am aware of. Regardless of the names that you and others have mentioned, I've got to say that my view is I hope they all remain at the club and I expect them to.
"But I'm not sure, I don't know the holes that have got to be plugged, I don't know what other clubs might do or approach our team, but at this stage, I'm quite sure none of those players have bene offered anywhere."