Kurtley Beale, Will Skelton and Rory Arnold have been Wallabies together for at least five years, yet they find themselves on the same team for the first time.
Nobody is more surprised than them.
Arnold is starting at lock against Scotland at Murrayfield (1.15am AEDT) while Skelton and Beale are in the reserves for Australia's second match on its northern tour.
All three left Australia for better pay and a different challenge thinking they would never play for the Wallabies again, their route back blocked by a rule denying selection to overseas players without 60 caps and seven years in Super Rugby.
Beale qualified comfortably with 92 caps and 13 seasons but when he wasn't wanted last year by new Australia coach Dave Rennie, he got an early release from his contract and headed to Racing 92 in Paris.
Recent injuries to fullbacks Tom Banks and Reece Hodge, however, prompted Rennie to ask Beale to rejoin the team.
"I can't tell you how great it feels. It's surreal," Beale said. "It was a bit of a surprise call up. I didn't really see it coming. I'm really, really excited to be a part of it."
Beale's so excited he wants to try and make the 2023 Rugby World Cup at 34 and finish his career on a better note than he did in the one-sided 2019 World Cup quarterfinal loss to England.
"The loss in the quarterfinal in 2019 really hit home with me," Beale said. "Losing at that stage, it's always disappointment. Then there's always hunger to try and redeem yourself to try and go for it again."
Like Beale, that quarterfinal was Arnold's 26th and last appearance for the Wallabies. But he's been recalled after Rugby Australia relaxed the eligibility criteria to try and improve Rennie's options and firepower.
"I came over to France thinking my Wallabies career had finished because I didn't fit the criteria," Arnold said. "I'm grateful for the opportunity."
Last Sunday, Arnold faced Beale in a French Top 14 match, and Arnold's Toulouse lost and Beale was yellow carded. Now, Arnold could be substituted out for Skelton at Murrayfield.
Skelton gave up his Test career after the 2016 European tour and 18 caps.
He's in his prime seasons at 29 but never thought he'd be a Wallaby again because of the eligibility rule, and even more so last year after he declined a chance to return from Australian director of rugby Scott Johnson because he didn't want to abandon his pregnant wife.
But with the eligibility rule loosened, Skelton was given a heads up from Rennie in mid-year to keep playing well, and he's gladly accepted another surprise invite.
"It's nice to be back," he said.
And Skelton doesn't want his return to be temporary.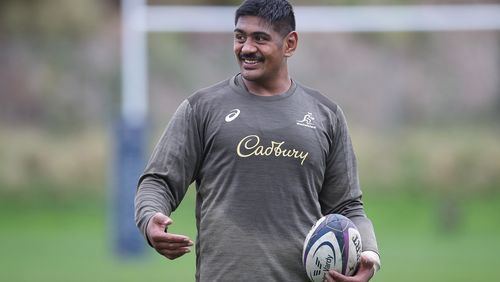 "We're not just here to train for three weeks," he added.
Rennie doesn't want that either. He's got the Wallabies on a five Test winning streak, a buzzing squad and happier fans, and plenty of depth and options.
"To be able to call on the experience and quality of players like Rory, Kurtley and Will is really valuable for our group," Rennie said.
"Those three guys have merged with the group seamlessly, worked hard on their detail this week, and are super excited to earn another opportunity to represent their country."